Our History
The Owingsville Banking Company has a long and interesting history, but perhaps as interesting as the bank itself, is the building in which it resides. Since its charter in May of 1893, it has been housed in the "Owings House", a Federal-style dwelling constructed from 1811 to 1814. A comprehensive history of the bank and of the Owings House can be found in the History of Bath County, by John Adair Richards.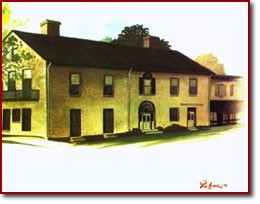 According to J. A. Richards, the Owings House was built in the course of a friendly contest between Colonel Thomas Deye Owings and Richard Menefee, which arose after Bath County, Kentucky was formed in 1811. These two prominent citizens had each donated a portion of the land on which the county seat was to be situated. The winner of the contest was to be the one who could build the finest home in the shortest length of time; the winner's prize was to be the naming of the town. Col. Owings hired Benjamin Latrobe to be the architect of the house he was planning to build, Latrobe being perhaps more famous for another of his designs in Washington, DC; the United States Capitol. The Colonel constructed a magnificent mansion containing the largest unsupported spiral staircase in a private dwelling in North America, which later became the home of the Owingsville Banking Company. This historic landmark would carry on his name, as would the town.
The Owingsville Banking Company has remained in the Owings House since its first day of business in 1893, gradually coming to occupy the entire structure, as well as adjoining buildings. It has also remained an independent bank. This independence promotes our idea of one-on-one personal service, the type of service we have been providing for over 100 years. Just as we are proud of the history of our town and of our home, we are also proud of our history of serving our customers and our community.